Keep America Beautiful
GET READY TO PICK UP PENNSYLVNIA!
Register an event with Pick Up Pennsylvania and help keep trash out of our waterways! Water and land-based cleanups are eligible for the program since a significant portion of waterway pollution originates on land. Trash bags, gloves, and safety vests are provided for registered events, as supplies last, by the Pennsylvania Department of Environmental Protection, PennDOT and the Ocean Conservancy.
Select here to register and get for more information.
Young Ambassador Program Applications Open
Young Ambassador Program Applications Open
Keep Pennsylvania Beautiful and PennDOT invite students in grades 10 - 12 to help us keep Pennsylvania beautiful! Applicants should be passionate about the environment and committed to making Pennsylvania the best place to live, work and play through volunteerism and leadership.
The Young Ambassadors program provides opportunities for high school students to train and network with industry leaders, state agencies, local media and the Keep Pennsylvania Beautiful network to increase leadership and problem-solving skills and prepare them to continue to make differences in their communities and beyond.
NEW For 23-24: Keep Pennsylvania Beautiful is excited to announce a new collaboration with NiSource and Columbia Gas of Pennsylvania!
Through this collaboration, KPB will offer Ambassadors a webinar focused on sustainability, led by the company's Environmental Department. Students will also have two opportunities to apply to participate in a job shadowing experience in the spring of 2024 in Pennsylvania. Selected participants will have the opportunity to meet with local Columbia Gas of Pennsylvania employees and accompany them in the field to learn the day-to-day responsibilities.
Applications are being accepted through September 14. Please visit our website for more information. If you have any questions, please email Kylie McCutcheon at kmccutcheon@keeppabeautiful.org.
Litter Free School Zone Helps Develop School-Wide Stewardship Ethic
Our Litter Free School Zone Program encourages hands-on activities to teach environmental stewardship and responsibility. The responsibilities include planning two improvement projects per school year and can include litter cleanups and beautification events, like creating and caring for pollinator and rain gardens. We provide a Litter Free School Zone sign and cleanup supplies!
The application process, which is completed by a teacher or administrator, is simple and can be done even before school starts, so the Litter Free School Zone sign and supplies are ready and waiting once school resumes.
Teachers across the state have incorporated the program into activities for student council, environmental clubs, science classes and more. All schools are welcome - elementary school, middle school, high school, public or private. Visit our website for more information.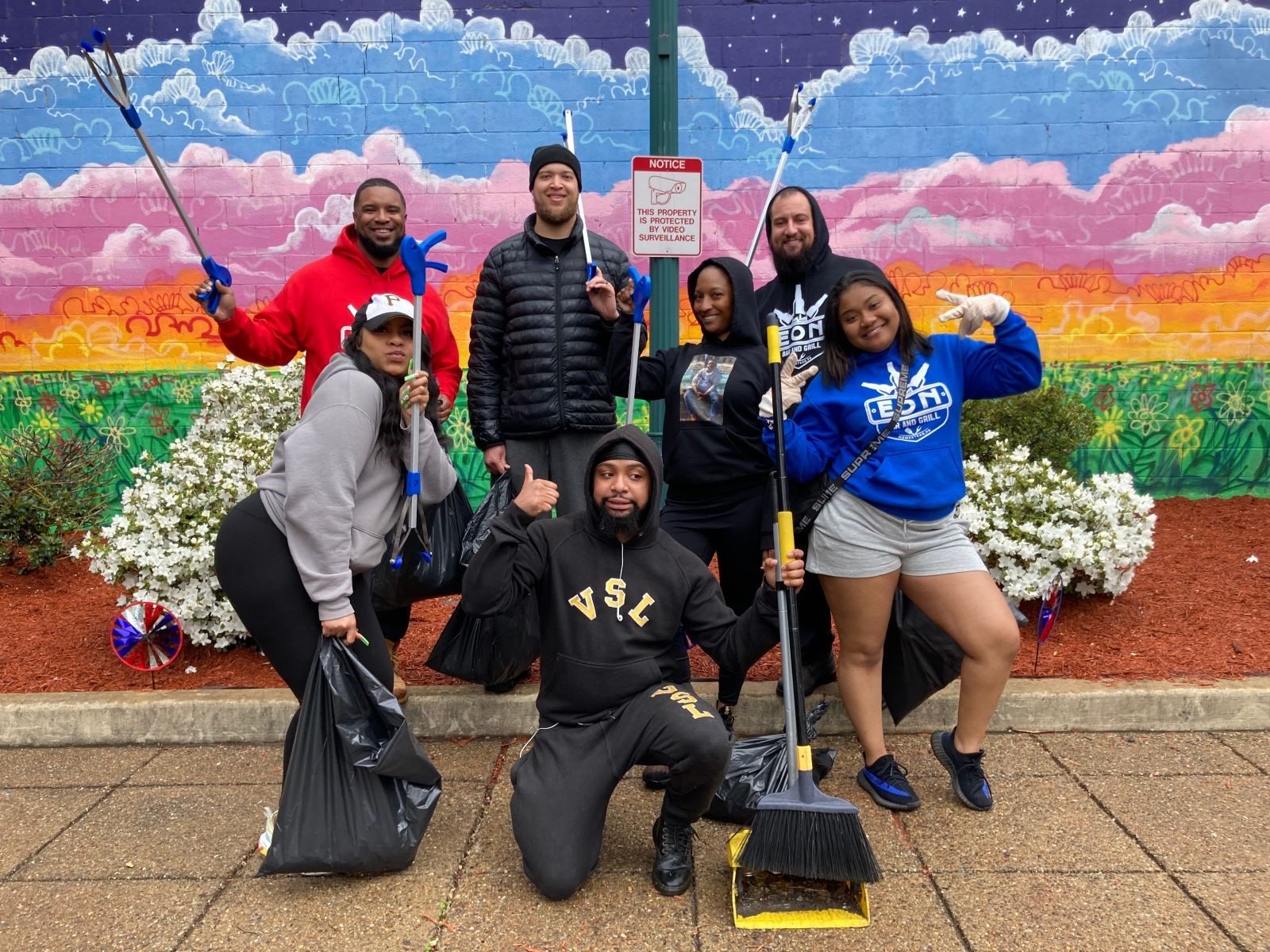 Volunteers from Homestead Borough, Allegheny County, clean up.
Pick Up Pennsylvania Supporting The International Coastal Cleanup
Register your fall cleanup event in support of the International Coastal Cleanup! Cleanup events held between September 1st - November 30th are eligible for FREE work gloves, safety vests, and trash bags, as supplies last.
Both waterway and land-based cleanups are eligible for the program since a significant portion of waterway pollution originates on land where it is washed into storm drains, creeks and rivers that flow to the ocean. Please note, there is no donated landfill space for the fall event. Visit our website for more information and to register your event.
Be sure to check back after your cleanup to report your results. Results are added to statewide totals, help us measure progress towards reducing litter and are important deliverables to our funders!
A huge thank you to all our volunteers for making our Pick Up Pennsylvania spring program a success! With your help, over 2.3 million pounds of trash and 21,510 tires were removed from our local and state roadways, river banks and other shared public spaces. Over 5,600 trees, flowers and other vegetation were planted along our city streets, in our neighborhoods and on our state park and forest lands. More than 56,800 Pennsylvanians volunteered their time and energy to keep their neighborhoods clean and beautiful. We can't thank you enough!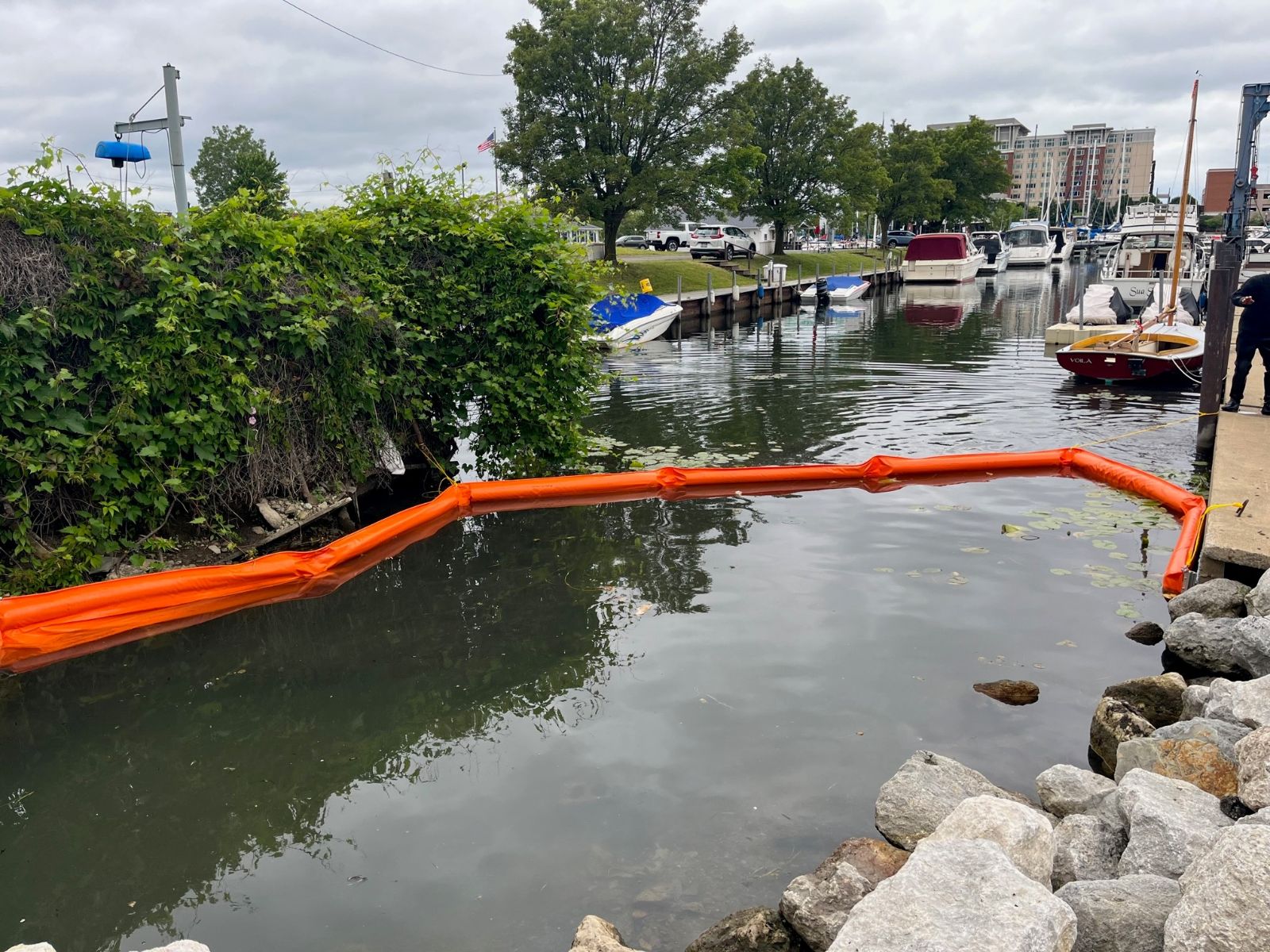 Litter control boom installed in Presque Isle Bay.
Litter Control Booms Piloted in Presque Isle Bay
With funding from the Ocean Conservancy, Keep Pennsylvania Beautiful collaborated with numerous individuals, organizations and businesses who make their home in Erie, to pilot litter control booms in Presque Isle Bay. Two booms were installed at points of stormwater discharge in Presque Isle Bay on June 23. They are designed to limit the spread of trash and corral floating litter so it can be collected and removed from the waterway. Interns from the Regional Science Consortium (RSC) at TREC, have been monitoring the sites, collecting the trash that accumulates in the booms, and evaluating data that determines the types and sources of trash and the effectiveness of the device.
The litter control booms will be in place until there is a risk of ice when it will be removed and stored until reinstallation the following spring. Keep Pennsylvania Beautiful will report results to the Ocean Conservancy to analyze litter trends and sources.
Keep Pennsylvania Beautiful Partners with America250PA for National Pennsylvania Day Mini Grants
To commemorate the 250th anniversary of the founding of the United States, Pennsylvania's integral role in that event, and the impact of its people on the nation's past, present, and future, Keep Pennsylvania Beautiful partnered with AMERICA250PA, to award 11 National Pennsylvania Day Mini Grants. The grants, totaling $18,900, were awarded in support of projects that improve the community and engage volunteers. The grants were available for existing America250PA partners. Projects included community cleanups, park improvements, revitalization efforts, river sweeps, graffiti abatement and murals. See awardees here.
PICK UP PA
2023 INFORMATION - March 1st through May 31st - The Great American Cleanup is eligible for FREE work gloves, safety vests, and trash bags as supplies last. Donated landfill space for trash collected during the cleanup is also available for free or reduced cost between April 1st through April 30th. Check out the link above for additional dates, collections and free items.
Listings for contact information on cleanup events happening all over Pennsylvania
Keep America Beautiful-
Established in 1953, Keep America Beautiful provides the expertise, programs, and resources to help people end littering in America, increase recycling in America, and beautify America's communities. The organization is driven by the work and passion of more than 600 community-based Keep America Beautiful affiliates, millions of volunteers, and the support of corporate partners, municipalities, elected officials, and individuals. Our collective action champions environmentally healthy, socially connected, and economically sound communities. Keep America Beautiful continues to bring people together to transform public spaces into beautiful places.
Keep Pennsylvania Beautiful

-Keep Pennsylvania Beautiful is the result of two organizations with similar missions joining together to achieve a common vision, a clean and beautiful Pennsylvania. In 2010, PA CleanWays (1990) and Keep Pennsylvania Beautiful (2003) merged to become the new Keep Pennsylvania Beautiful whose mission is empowering Pennsylvanians to make our communities clean and beautiful.
Since 1990, Keep Pennsylvania Beautiful and its volunteers have removed over 141 million pounds of litter from Pennsylvania's roadways,

greenways

, parks, forests, and waterways. To learn more about Keep Pennsylvania Beautiful, visit

www.keeppabeautiful.org.
For more information on programs, initiatives and special events, visit the Keep Pennsylvania Beautiful website. Please feel free to keep them in the loop on any clean-ups you are planning, they will be happy to help you with supplies, promotion, or logging the information. Planting, educational events, invasive species management, and any other beautification projects also qualify.
Also visit the Illegal Dump Free PA website for more ideas on how to clean up communities and keep them clean.
Also try Luzerne County Keep NEPA Beautiful - Janet Sweeney- 570-718-6507 or Rachael Stark-570.905.7391– PA. Environmental Council, 105 Lt. Michael Cleary Drive, Dallas, PA 18612.
If you have a site you think would be a good clean-up spot, please bring the Permission to Enter Form, (below), to the Landowner. The sooner Rachael Stark, (PEC, Dallas), has this completed form, the better! On street clean-ups typically don't need one, but still let Rachael know so she can let the municipality know and we secure trash pickup. She can be reached at 570-905-7391. Create a team for the Sun-Up to Sun-Set Clean-up Olympics with this form.
LOOKING TO DO A CLEAN-UP? CHECK OUT THE INFORMATION BELOW
During the Pick-Up Pennsylvania, which is from March 1st to May 31st, registered events can get free cleanup supplies such as bags, gloves, and vests donated by PennDOT and Keep America Beautiful. Additionally, during the Pick It Up PA Days, which is from April 16th to May 9th, sponsored by the Department of Environmental Protection, Pennsylvania Waste Industries Association, and participating landfills, registered events have access to reduced or free disposal.
10 Steps to Organizing an Illegal Dump Cleanup provides step by step direction, from surveying the site to long-term maintenance. Click here to download a copy. https://www.keeppabeautiful.org/programs/pick-up-pa/organize-an-event/ Also try https://www.keeppabeautiful.org/grants-awards/grants/healing-the-planet-grant/healing-the-planet-2021 ick here to add content...